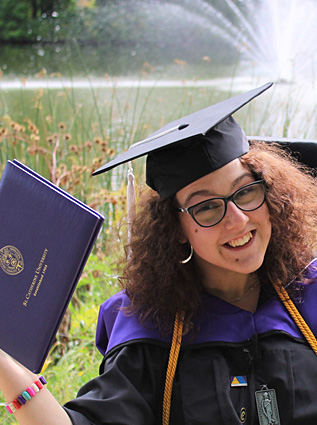 Alma Silver
I am a passionate storyteller who strives to form meaningful connections and engage with people from a myriad of different perspectives. I seek opportunities to use my writing as a medium for promoting more authentic representations of traditionally marginalized groups of people, especially the disability and neurodiverse communities. I am highly motivated to amplify unheard voices and take initiatives that create positive change within the communities I work in.
I graduated with my bachelor's degree in Communications and Journalism from St. Catherine University in St. Paul, MN, where I developed my strengths as a community leader grounded in developing collaborative solutions. In my positions as both an undergraduate Student Senator and a Program Development Specialist in the Abigail Q. McCarthy Center for Women, I advocated for the strategic implementation of inclusive excellence initiatives related to disability and neurodiversity within the student body, which led to the creation of a campus-wide Neurodiversity Task Force. I extended my community-oriented leadership during my time as the Editor-in-Chief of The Wheel student newspaper, as I mentored a team of writers and editors while overseeing the consistent release of both online and print publications. Throughout my undergraduate career, I also conducted extensive research on the roles that mainstream media platforms play in perpetuating the misrepresentations and stereotypes that impact members of the disability community.
I completed the Antonian Honors Program at St. Catherine University by executing a year-long phenomenological research project, which featured personal narratives that explored the formation of disability identity and culture among diverse members of the Twin Cities disability community.
Most recently, my research emphasis on representation led me to join the FDR Memorial Legacy Committee as a Programming Associate, where I oversaw a variety of projects centered on increasing public awareness surrounding the advocacy that led to the installation of the wheelchair statue at the FDR Memorial in Washington D.C. In this role, I established community partnerships and facilitated the collection of oral histories from notable disability advocates in Washington DC.
I look forward to pursuing a doctorate degree and embarking on future research in the fields of disability studies and critical media studies. When I am not writing or researching, I enjoy reading classic literature, hiking, and exploring new coffee shops.