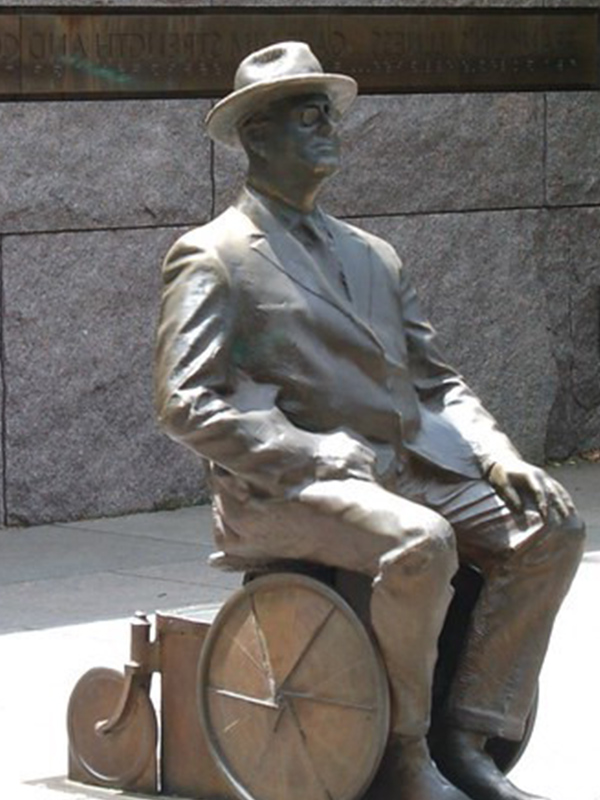 When the memorial was first dedicated in 1997, it did not include a depiction of FDR's disability. The National Organization on Disability led the campaign which was eventually joined by over 50 disability organizations.
A Harris Poll revealed 73% public support for a disability portrayal. Sixteen FDR grandchildren wrote in support of the depiction. Legislation was passed the night before the 1997 dedication calling for the addition of FDR's disability to the Memorial. The wheelchair statue was eventually added and dedicated on January 10, 2001. It was an epic battle to get the statue, and the entire room in which it stands, funded, designed, and built.
After a long campaign led by people with disabilities, with leadership from the National Organization on Disability, the statue of FDR in a wheelchair by famed sculptor Robert Graham and a quote from Eleanor Roosevelt referring to the inner strength her husband acquired as a result of polio were installed at the Memorial in what is called the Prologue Room at the entrance of the Memorial. The dedication was held on January 10, 2001, and led by President Bill Clinton. Graham, listening to the advocacy of the disability community, created the statue to be life-sized, and several feet from a wall on the ground level to allow for full access to the entire statue. The Prologue Room and the entire Memorial were designed by National Medal of the Arts recipient Lawrence Halprin.