Reflections from Alma Silver, Disability Advocate
Jan - 01 - 2021
Alma Silver, Associate, FDR Memorial Legacy Committee
My name is Alma Silver, and from this past year until now, I have been proud to work as the Programming Associate for the Franklin D. Roosevelt Memorial Legacy Committee, based in Washington DC. I, fortunately, stumbled across this opportunity as I participated in the Disability Advocacy Certificate Program, coordinated by the American Association of People with Disabilities in lieu of the traditional summer internship program. Throughout my time on the committee, I continuously expanded my perspective by working collaboratively with community members, historians, academics, politicians, disability activists, and business and nonprofit leaders across the country. I have felt proud and driven to be a part of our team's overarching mission, centered on preserving the legacy of equality, opportunity, and dignity that FDR left behind as America's first visibly disabled president. In listening to the dynamic stories of diverse grassroots leaders within the disability community, who successfully campaigned for the statue showing FDR in his wheelchair at the memorial in DC, my eyes have been even further opened to the broader fight for representation, autonomy, justice, and inclusion within the disability community.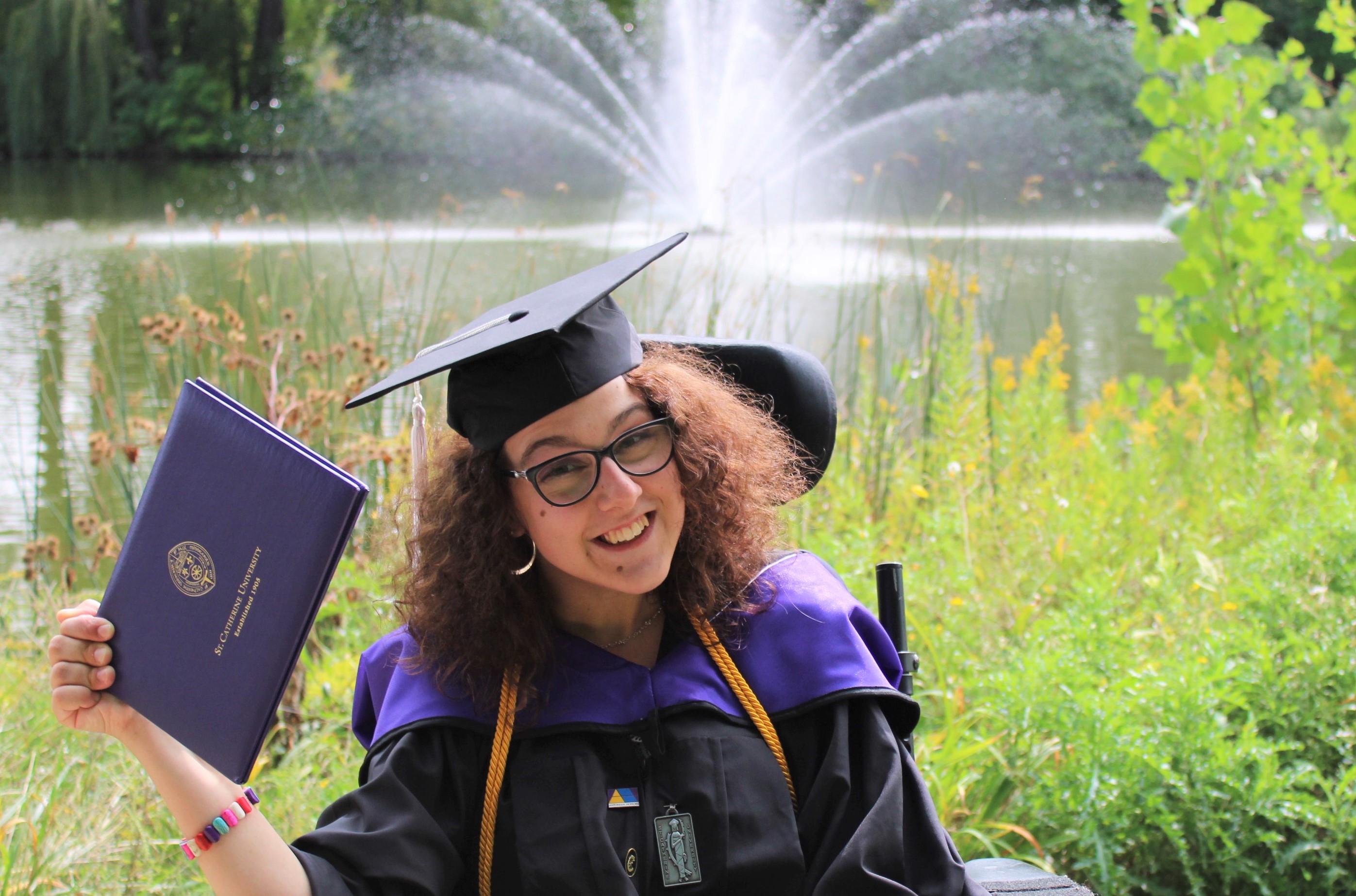 Shortly before joining the FDR Memorial Legacy Committee, I completed my bachelor's degree in Communication and Journalism from St. Catherine University in St. Paul, Minnesota. I graduated Summa Cum Laude with honors in the midst of the unfolding pandemic that has upended life as we know it. I was one of the few wheelchair users in my campus community, and I was the first student who uses a communication device to graduate from the university. With all of the upheavals, challenges, and unfamiliar ways of living brought about by the pandemic, I only recently paused for a moment, just long enough to put on my cap and gown and look back on the path that I have traveled over the past four years. It felt strange, even surreal, to celebrate graduation so belatedly, yet somehow, in that moment, I realized words that have stirred within me for a long time.
Looking at my diploma, an overwhelming surge of memories suddenly arose. I remembered the people who laughed and dismissed me after I expressed my dream of moving away and pursuing a degree. Often, these people also expressed surprise that I was "out and about." I remembered an instructor warning me that academia would likely not welcome a woman who needed accommodations like I did. I thought about the few professors I have had who said that they felt uncomfortable teaching me, that my technology "distracted my classmates," and that my voice "took up too much time."
I relived moments when I was told I needed to be "less demanding" and "less intimidating," that I should "sit in the back of the room" and "feel grateful that the building is accessible." I remembered clenching my jaw as community members stopped me on campus to ask if I was lost, if I needed help "getting back home," or if I was "actually a student."
I remembered the people who questioned whether I had "actually written" a presentation that I delivered. I felt the lingering sting left by the judge who tried to disqualify me from a speech competition, arguing that my device did not count as a legitimate voice. I remembered the judge who sharply averted her eyes and turned away as I went to shake her hand.
I flashed back to the moment when I was stopped and asked what group home I came from. I thought about the one instance in high school when the historical institutionalization of disabled people was mentioned, and I felt eyes turn in my direction. I remembered how exhausted I felt as I longed to see my identity represented in a story as something other than a tragedy or a burden.
I remembered every time I dug my fingernails into my palms and took steadying breaths to ground myself after yet another person slapped the label of "inspiration" onto me, without ever taking a moment to hear my voice, as if my very existence warranted pity. I recalled being introduced as a girl "afflicted with CP" and "confined to a wheelchair." I remembered years of riding on a separate school bus, simply because the "regular" buses lacked wheelchair ramps. From the darker and more buried corners of my childhood memories, I heard the echoes of people who asked what was wrong with me, who knelt and prayed that "God would heal me..."
...and then as I clasped my hands around my diploma, I finally released something between a gasp and a sob from deep within my chest. All the memories suddenly seemed to shatter around me, replaced by the warmth of love, community, and goodness. I saw the friends who could make me laugh when I swore that correcting one more ableist assumption in a classroom or meeting would break me. I saw the countless teachers and professors who welcomed me, who made intentional space for my disabled identity.
I thought about the beauty that I have discovered through connecting with members and allies of the disability community. I thought about the fiercely determined activists who crawled up the steps of the Capitol and tirelessly fought for equal rights in decades past. And I realized, with a sharp jolt, how I have been protected every step of the way by unearned advantages, how my Whiteness has elevated me to privileged positions of representation. We have SO much work left to do in breaking past the restrictive understandings of what disability encompasses.
I am a disabled woman. I refuse to stay silent, and I refuse to serve as the one-dimensional inspiration within anyone else's narrative. I have been told not to call myself disabled, and I have been congratulated for "overcoming" my disability to get to where I am today. But I refuse to edit my identity for non-disabled people's comfort. Everything that I have accomplished and everything that has brought me joy has come to me BECAUSE of my disability and in spite of ableist attitudes and systemic barriers.
I will end by saying what I have repeated over the past 4 years: disabled people belong on college campuses. And this means disabled people of all races, cultures, sexualities, gender identities, and backgrounds. We belong in leadership positions, and we belong where decisions are made. We are not here to inspire anyone, nor are we here to take a back seat. We are here to share our ideas, our passions, and our identities. It is not enough to "include" us in spaces that were never intended to be accessible in the first place. These spaces need to be re-imagined, and unheard voices need to be amplified. The road to genuine inclusion is long, but I believe that the power of conversation, representation, and shared humanity will carry us forward.
As for my next steps, I will be attending graduate school to further pursue my passions for writing, advocacy, and creating more authentic representations. It is my dream to meet, interview, and gather stories from diverse members of the disability community across the nation (and, hopefully one day, across the globe). My sights are set on attaining my PhD, and I am so excited to apply all that I have learned throughout my time on the FDR Memorial Legacy Committee as I embark on the storytelling projects to come.