Accessibility is NOT Optional
Register for the Event HERE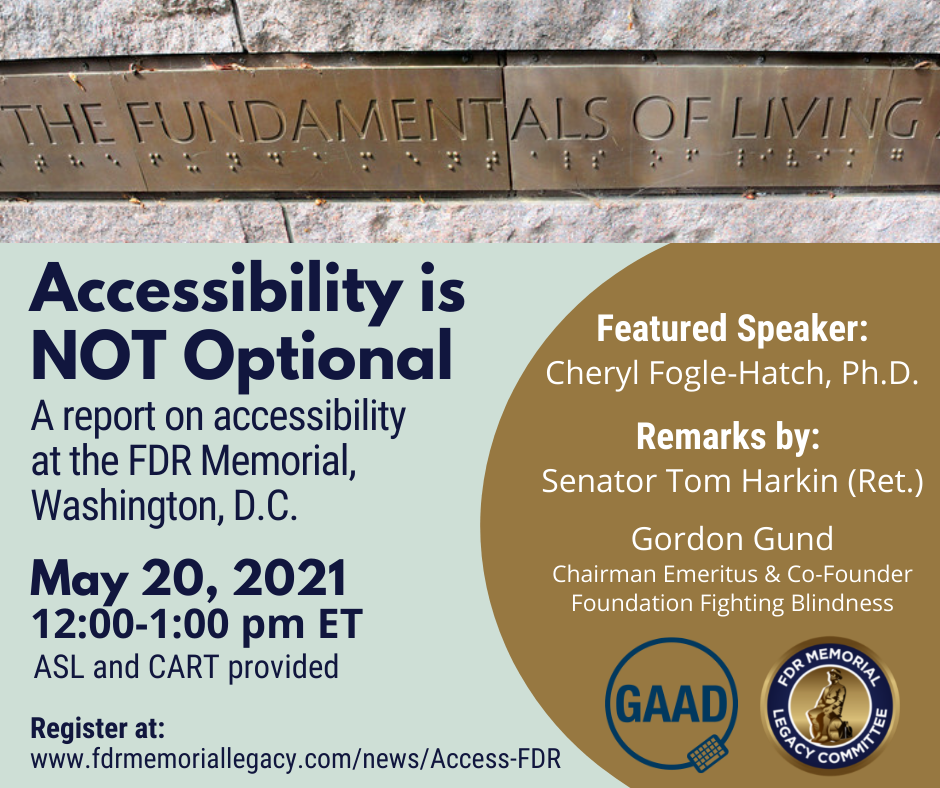 Text Description of Invite Above:
Accessibility is NOT Optional
A report on accessibility at the FDR Memorial, Washington, D.C.
May 20, 2021
12:00-1:00 pm ET
ASL and CART provided
Register at:
www.fdrmemoriallegacy.com/news/Access-FDR
Featured Speaker:
Cheryl Fogle-Hatch, Ph.D.
Remarks by:
Senator Tom Harkin (Ret.)
Gordon Gund, Chairman Emeritus & Co-Founder, Foundation Fighting Blindness
Image Description: At the top of this graphic, there is a photo of a portion of a stone wall at the FDR Memorial which features a quotation by Eleanor Roosevelt engraved into the stone. The text of the portion shown reads: The Fundamentals of Living, and there is Braille underneath the letters.
Second Image Description: At the bottom right corner of this graphic, there is the logo for Global Accessibility Awareness Day, which has GAAD in blue letters with a blue circle surrounding the letters with a keyboard at the bottom right corner.
Third Image Description: Next to the GAAD logo is the logo for the FDR Memorial Legacy Committee. It is a round graphic with a dark gold illustrated version of the FDR wheelchair statue in the center. Above and below the graphic, white text on a curved navy-blue background reads: FDR Memorial Legacy Committee.