2022 Progress Report on Accessibility at the FDR Memorial
FDR MEMORIAL LEGACY COMMITTEE COMMEMORATES 32nd ANNIVERSARY OF THE AMERICANS WITH DISABILITIES ACT (ADA) WITH RELEASE OF THE 2022 PROGRESS REPORT OF ACCESSIBILITY AT THE FDR MEMORIAL
WASHINGTON, D.C. (July 27, 2022) – Today, the FDR Memorial Legacy Committee (FDR Committee) marked the 32nd Anniversary of the Americans With Disabilities Act (ADA) with the release of the 2022 Progress Report on Accessibility at the FDR Memorial.
Since the FDR Committee commissioned the original 2021 report Exploring Accessibility at the FDR Memorial, the committee has urged the National Park Service (NPS) to address accessibility concerns at the FDR Memorial. As a result, waysides featuring information in print, Braille, audio, and tactile models have been installed throughout the 7.5-acre Memorial. Tactile maps have also been installed to help individuals orient themselves to the Memorial.
"The NPS has made great improvements in just one short year after our original report was released," said Cheryl Fogle-Hatch, Ph.D., founder of MuseumSenses and author of the Progress Report on Accessibility at the FDR Memorial. "I look forward to the continuation of improvements for all visitors to enjoy the Memorial."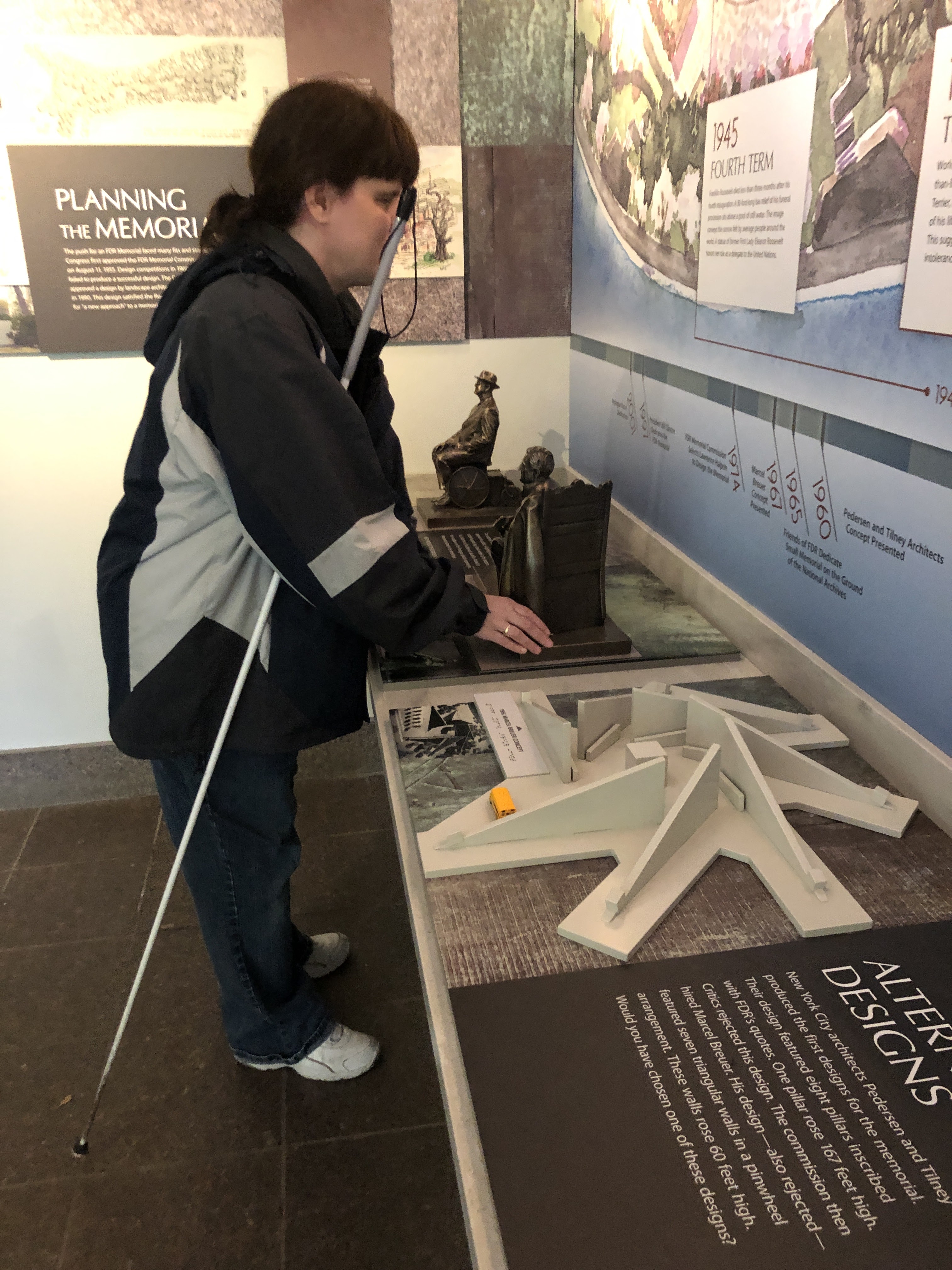 Dr. Cheryl Fogle-Hatch explores the new tactile model displays in the lobby area of the FDR Memorial bookstore.
Photo credit: Topher Bellavia, 2022
ALT TEXT: A picture of a woman with dark hair and a black jacket holding a long cane under her arm while she touches a miniature replica statue of Franklin Roosevelt in the lobby of the Memorial.
Along with the positive improvements, the report identifies nine areas for ongoing attention and concern, including accessibility improvements to the NPS website, clarification on the use of artistic Braille, the need for ongoing maintenance and enhancements for waysides, the addition of tactile models of other sculptures, consistent use of Braille Authority of North America standards and safety improvements.
Each year, more than 3 million people visit the FDR Memorial. When the FDR Memorial opened on May 2, 1997, there was no depiction of FDR as a wheelchair user. The disability community led a six-year campaign for disability representation. On January 10, 2001, the Prologue Room of the FDR Memorial was dedicated as "the completion" of the FDR Memorial and includes the famed statue of FDR in a wheelchair by renowned sculptor and artist Robert Graham.
###
2022 Progress Report on Accessibility at the FDR Memorial (Word Version)