LOCAL VOLUNTEER FIREFIGHTER SHARES MEMORY OF FIGHT FOR FDR WHEELCHAIR STATUE
LOCAL VOLUNTEER FIREFIGHTER SHARES MEMORY OF FIGHT FOR FDR WHEELCHAIR STATUE
Palisades Park Resident Bill Raimondo Reminisces About Impact of Fundraising Campaign
WASHINGTON, DC (October 29, 2020) – Over twenty years ago, a young 6th grader from Lindbergh Elementary School in Palisades Park, New Jersey, committed to a campaign for change. When the FDR Memorial opened in 1997, FDR's disability was hidden. Disability leaders fought back and demanded truth and representation. Sixteen Roosevelt grandchildren agreed that FDR should be shown as the person he was – a person with a disability. And over 50 disability organizations from across the country signed on to support the FDR Wheelchair Statue Campaign.
Raimondo's story began in 1996 when his elementary class studied the New Deal and FDR's terms in office. His teacher, Ms. Sherry Sabin, shared a news article about how the monument would not depict President Roosevelt's disability and invited the class to discuss the significance of this decision. "This felt a little personal for me because I was waging a personal battle with a learning disability and ADHD," said Raimondo. "Ms. Sabin looked further into it and somehow got in touch with the disability leaders, Alan Reich and Mike Deland, who were leading the FDR Wheelchair Statue Campaign. From that point, our class was determined to make a difference and began a quilt project to raise money for the campaign. Each student had to draw a picture of President Roosevelt on fabric, and they were stitched together into two quilts. One quilt was raffled off at a bake sale raising $378.50, and I presented the other to Alan Reich for display in his office."
Raimondo continued to be involved in the campaign and had the opportunity to present the $378.50 check to the National Park Service at the Rendezvous with Destiny Campaign kickoff diner. "That experience and the day the wheelchair statue was dedicated are by far are some of my treasured memories," exclaimed Raimondo. "I never thought in a million years I would be a part of something this big."
"The full representation of FDR's disability at his Presidential Memorial would not have happened without the grassroots support from individuals like Bill Raimondo and his teacher Sherry Sabin," said Mary E. Dolan, Executive Director, FDR Memorial Legacy Committee. "However, there is still more work to do as we call for the National Park Service to make the FDR Memorial inclusive for all, fund education to include the disability community's campaign, and local efforts like Bill's and prioritize repairs at the FDR Memorial using funding from the newly passed Great American Outdoors Act." The FDR Memorial Legacy Committee has created a Change.org petition to call for action.
In addition to the petition, the FDR Committee, thanks to a grant from HumanitiesDC, is currently collecting stories and artifacts related to the campaign to include the statue of FDR in his wheelchair. Raimondo's photos and news clippings will now be part of a collection of artifacts that demonstrates how a powerful, under-represented community can band together to create significant change. Raimondo went on to share, "As a father to two elementary students, I constantly tell my girls that anyone can make a difference in this world. Change must start from somewhere, and sometimes the littlest things have the biggest effects."
For more information on how to share stories or items from this campaign, please visit www.FDRMemorialLegacy.com.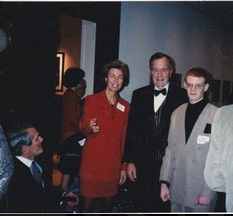 Caption: Bill Raimondo, pictured with Former President George H.W. Bush and Anne Roosevelt. granddaughter of President Roosevelt and Eleanor Roosevelt. Bill and his sixth-grade class raised $378.50 to help fund the Rendezvous with Destiny Campaign to add the statue of President Roosevelt in his wheelchair at the National Memorial. The students along with many others were successful and on January 10, 2001 President William J. Clinton dedicated the life-size, approachable statue of President Franklin D. Roosevelt sitting in his wheelchair.
###
FDR Memorial Legacy Committee
The FDR Committee brings together historians, disability and civil rights advocates, artists, academics, leaders in government, business, and non-profits, and interested people across the country. The FDR Committee operates independently under the non-profit status of the National Council on Independent Living (NCIL), which serves as a fiscal sponsor. www.fdrmemoriallegacy.com