Teacher Professional Development
FDR Memorial Legacy Committee & The University of the District of Columbia Virtual Teacher Professional Development Workshop July 19-21, 2021
Are you a middle or high school teacher?
Attend our virtual professional development workshop earn up to $250 and CEUs/PLUs!
The FDR Memorial Legacy Committee and the University of the District of Columbia are looking for middle and high school teachers who are interested in expanding their knowledge of the disability rights movement, FDR and his disability, and the intersection of civil rights and disability rights. Preference is given to teachers from the Washington, D.C. area but all are welcome.
Spaces are limited. Register today!

Click HERE to register.
To see the draft agenda click here.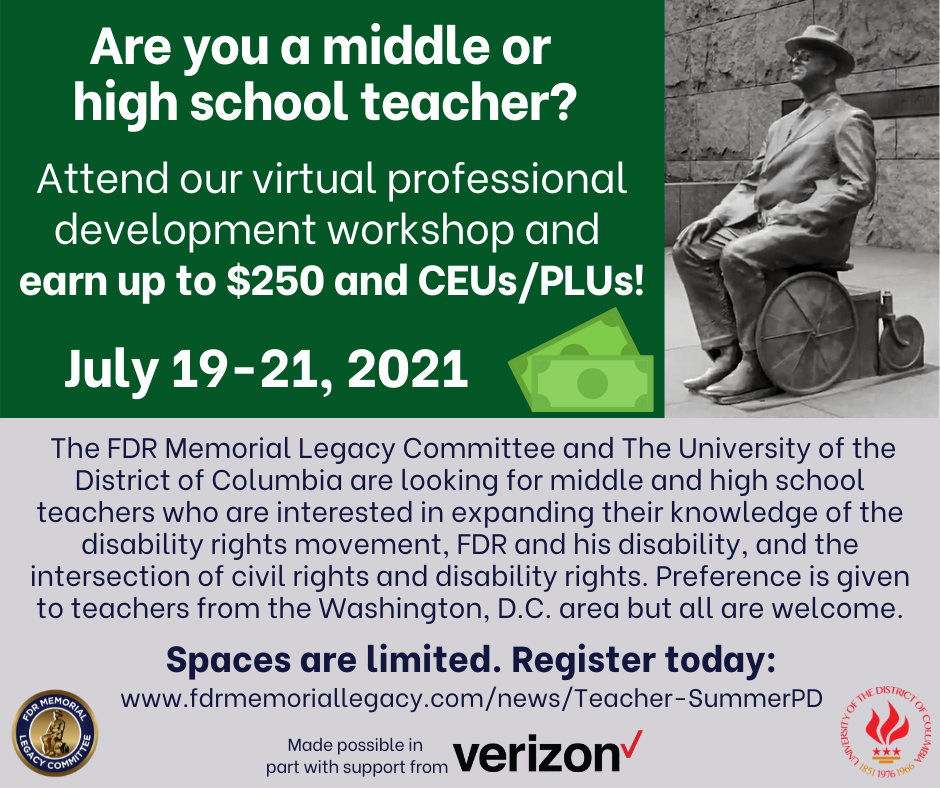 Image Descriptions:
Top right: An image of the bronze statue of FDR seated in his wheelchair at the FDR Memorial.
Bottom left: The FDR Memorial Legacy Committee logo. A round logo with a dark gold illustrated version of the FDR wheelchair statue in the center. Above and below the graphic, white text on a curved navy-blue background reads: FDR Memorial Legacy Committee.
Bottom center: The Verizon Wireless logo, which is the word Verizon in bold capital black letters with a red check mark at the right. To the left of the logo, text reads, "Made possible in part with support from."
Bottom right: The University of the District of Columbia logo. A red and gold image of a flame is in the center. The words "University of the District of Columbia 1851 1976 1966" surround the image in a circular shape.