Travel and Lodging
Participants are responsible for arranging their own travel and lodging.
Getting to DC By Air:
DC Reagan National Airport (DCA) is the most convenient airport. You can also access the DC Metro from there. Dulles Airport is further away and a more expensive cab ride into the city. There are some public transportation options to and from Dulles (IAD) https://www.flydulles.com/parking-transportation/silver-line-express-bus-metrorail-station
Baltimore/Washington International Airport (BWI) is also a possibility. You can take Amtrak from the airport to Union Station in Washington DC.
Getting to DC By Amtrak: Take to Union Station. From there you can get the DC Metro to just about anywhere in DC and nearby Maryland and Virginia.
Getting to DC By Bus: There are a number of bus companies that travel to DC. Many stop at Union Station in DC. There are other stops and pick-up locations for some bus companies other than Union Station.
Getting to DC By Car: Parking in DC can be pricey. We will be exploring a discounted rate at the hotel. Information to come.
While in DC:
Take advantage of the DC metro. You will want to buy a $2 metro card so you can swipe yourself in and out of the metro. You can also set up your phone to use to swipe in and out. The card/phone is also good on DC buses. https://www.wmata.com/
There is also the DC Circulator which is free and takes you around to some key areas of DC including the FDR Memorial and Union Station. Info at https://mail.dccirculator.com/
Lodging: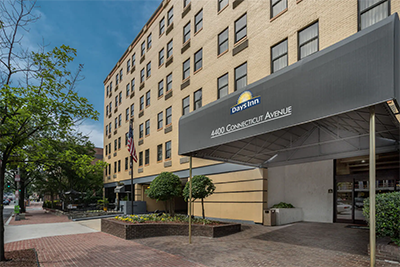 You may choose to stay wherever you like. These are suggestions from our team based on proximity.

Wyndham Days Inn
The most convenient lodging to UDC is the Wyndham Days Inn at 4400 Connecticut Ave NW, Washington, DC 20008.
It is a no-frills hotel. A special rate of $99 a night will be reserved for attendees. There are limited ADA-compliant rooms. The elevator entrance is 39 inches and inside it is 50 inches x 59 inches. The hotel is located about 400 feet from UDC and a small incline. The hotel offers free WiFi and is located within a few minutes walk of Van Ness Metro which is accessible to major transportation hubs. Near the hotel and the UDC campus, a myriad of restaurants and take-out dining options are available to meet various dietary needs.
Guests may call 1-800-316-5766 and mention FDR Memorial Legacy Committee 1 or 2 to reserve their rooms. A credit card number is required to guarantee room reservations. A $50.00 incidental deposit is due at arrival. Parking is $25.00 per night per vehicle.
Cancellation policy is 72 hours prior to arrival date for an individual reservation to avoid first night room and tax fee.
If you have questions about your reservation at Days Inn, you can contact Ana Lopez at ana.lopez@cwhotels.com.
Embassy Suites Chevy Chase
A more upgraded nearby hotel is Embassy Suites Chevy Chase which is located two metro stops away from UDC at Friendship Heights. You will be responsible for your own transportation to the workshop.
A special rate of $179 a night will be reserved for attendees. The deadline to book the reserved rate is June 9. The hotel sits above the shops of Chevy Chase Pavilion and Friendship Heights Metro station — the Red Line connects to the White House, Capital One Center, and other D.C. landmarks. The hotel offers free made-to-order breakfast and a complimentary evening reception. There is an on-site restaurant and free Wifi.
The Generator Hotel
The Generator Hotel at 1900 Connecticut Ave NW is in the Dupont Circle neighborhood and is just three metro stops from UDC. The Generator offers a range of lodging options that can fit many budgets from shared dormitory-style rooms to single rooms. Use this to get 15% off their best available online rate for any room type! Generator is located at Generator Washington DC - NEIGHBOR Rate - 15% off
You may choose to stay wherever you like. These are suggestions based on proximity.
FOOD:
Many meals will be on your own except as what will be indicated on the schedule. Around both hotels and the UDC campus, a myriad of restaurants and take-out dining options are available to meet various dietary needs. Near UDC there is also a grocery store called Giant at 4303 Connecticut Ave NW, Washington, DC 20008